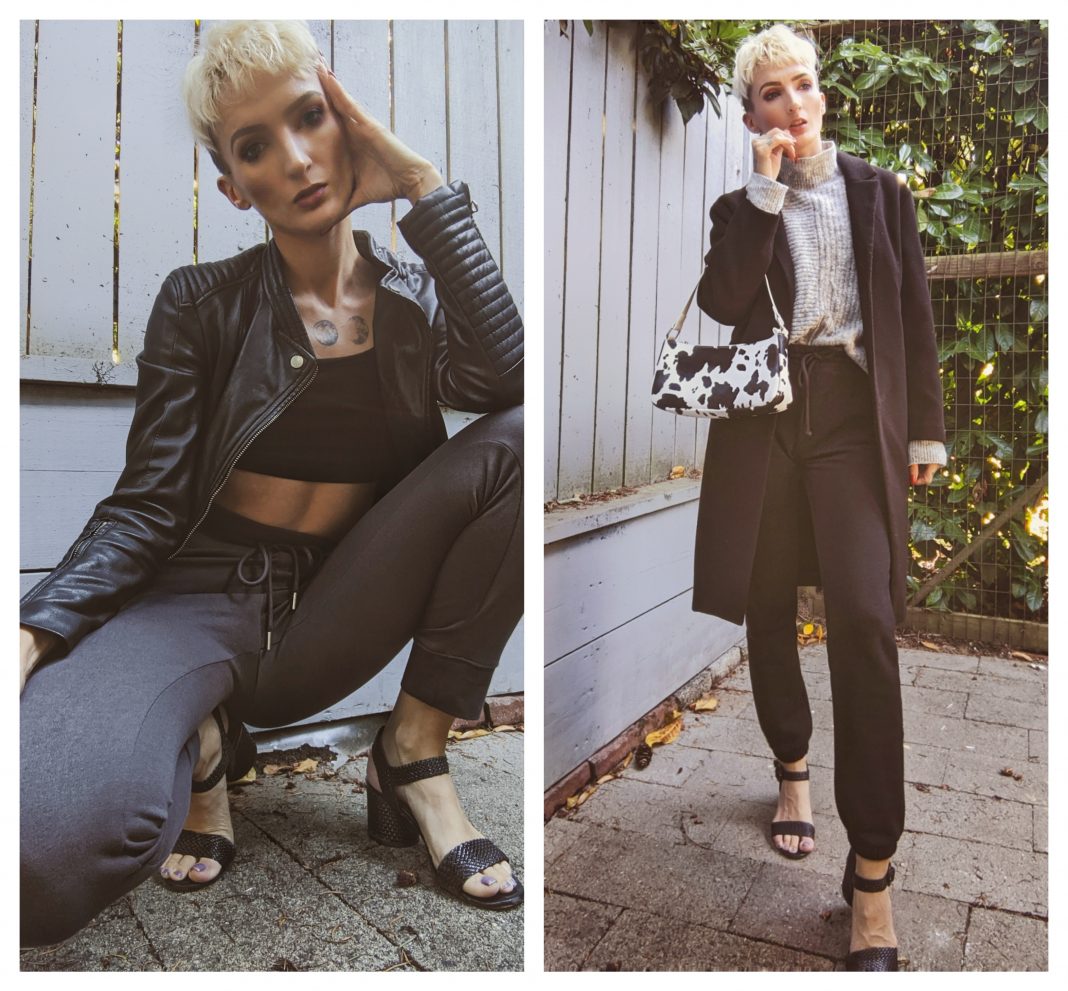 If you are living on this Earth, you have probably worn joggers or at least thought about them over the last 5 months.
IF NOT, THEN AT LEAST IT'S SAFE TO SAY THAT YOU ARE NOW!
Cuz lets be honest: we are all indoors a lot more and want something comfy and stylish. So why not figure out how to style joggers and sweatpants? I have been wearing joggers a lot more lately (who am I?!) and have rounded up the top 8 outfit ideas for styling joggers so you look fashionable. Because who said joggers had to be boring?

If you recall back in March/April, I shared my top loungewear items and what to wear while in quarantine. After that, I talked about all the summer wardrobe staples you need to try. Now, we are heading into fall and colder weather – and we are still hanging out indoors- and probably want to be comfy. So joggers and sweatpants are here to stay for the remainder of 2020.
Since we all probably have at least one good pair of sweatpants or joggers in our closets at this point, I wanted to make sure you guys felt good styling your joggers so you feel fashionable and not frumpy. This should tie you over for at least the next three weeks until fall hits- so you can get excited about wearing joggers around the house, and of course, getting groceries. Because who goes out to get drinks anymore? To see all my styling tips, and of course, do some shopping just in case you're still in the market, just keep scrolling!
My Favorite Joggers
Here are my top joggers to shop now for the new season under $50:
Here are my top joggers to shop now for the new season over $50:
---
1. Wear a bold shoe
Wondering what shoes to wear with a jogger?! What's better than a bold shoe? Ditch the sneakers girl- you can do better! Now that I am wearing comfy clothes more often, pairing my joggers with a fun heel or sandal is my go-to. Adding a pair of cute heels automatically heightens your look from frump to fashion, so get bold with your shoes!!
STYLE TIP: If you don't want to wear heels, you can still make your sweatpants look a bit fancier by wearing sneakers or boots.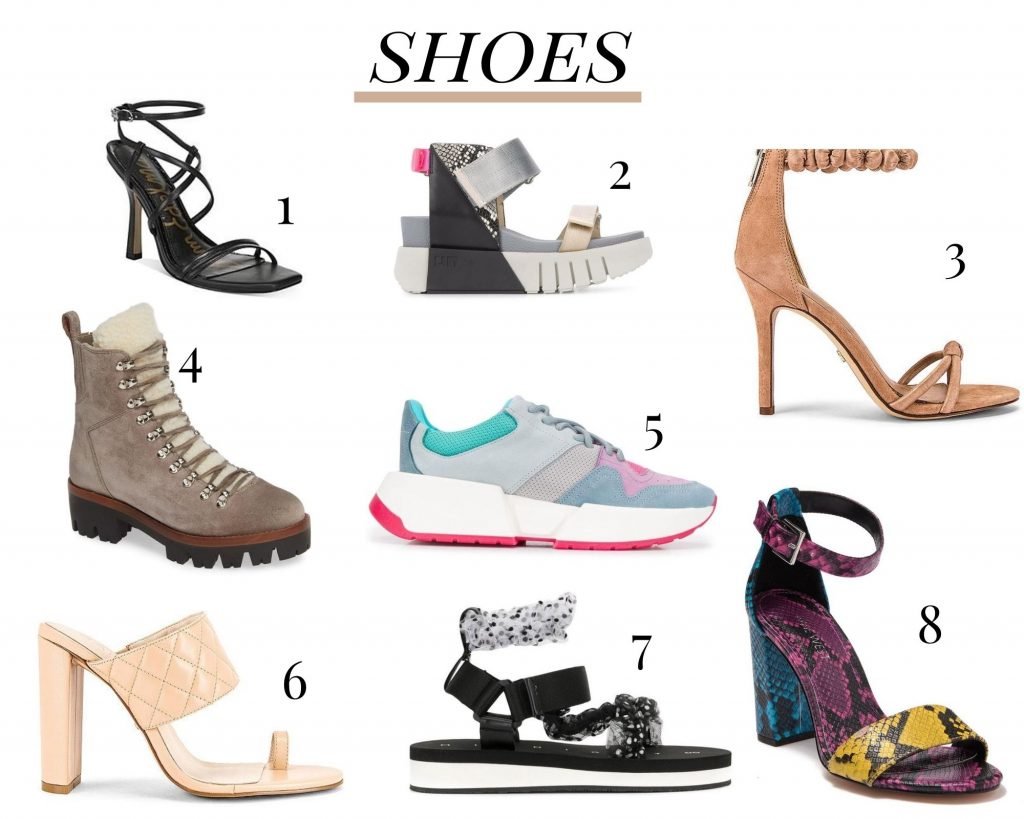 1: Here / 2: Here / 3: Here / 4: Here / 5: Here / 6: Here / 7: Here / 8: Here /
---
INSPIRATION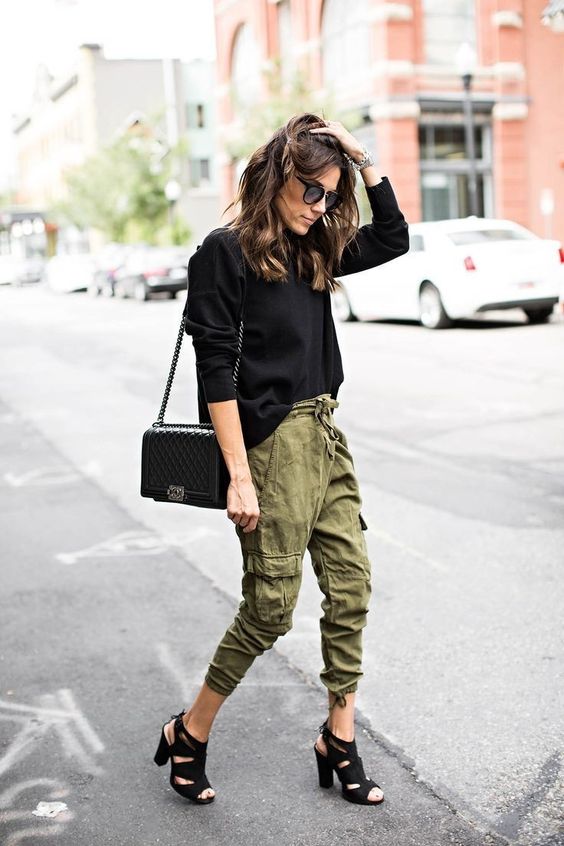 SHOP MY FAVS
---
2. Focus on the top
Anything can really go with joggers, but adding a fun top will make it even more put together. If you want to dress up joggers, try silk materials or a leather fit. To dress down fancier joggers, opt for a sweater or an athletic top.

STYLE TIP: To add some height to your look, try to get a cropped silhouette like a cropped t-shirt or tube top. A fun cardigan also is good for colder weather. Shop below for my favorite tops to style joggers!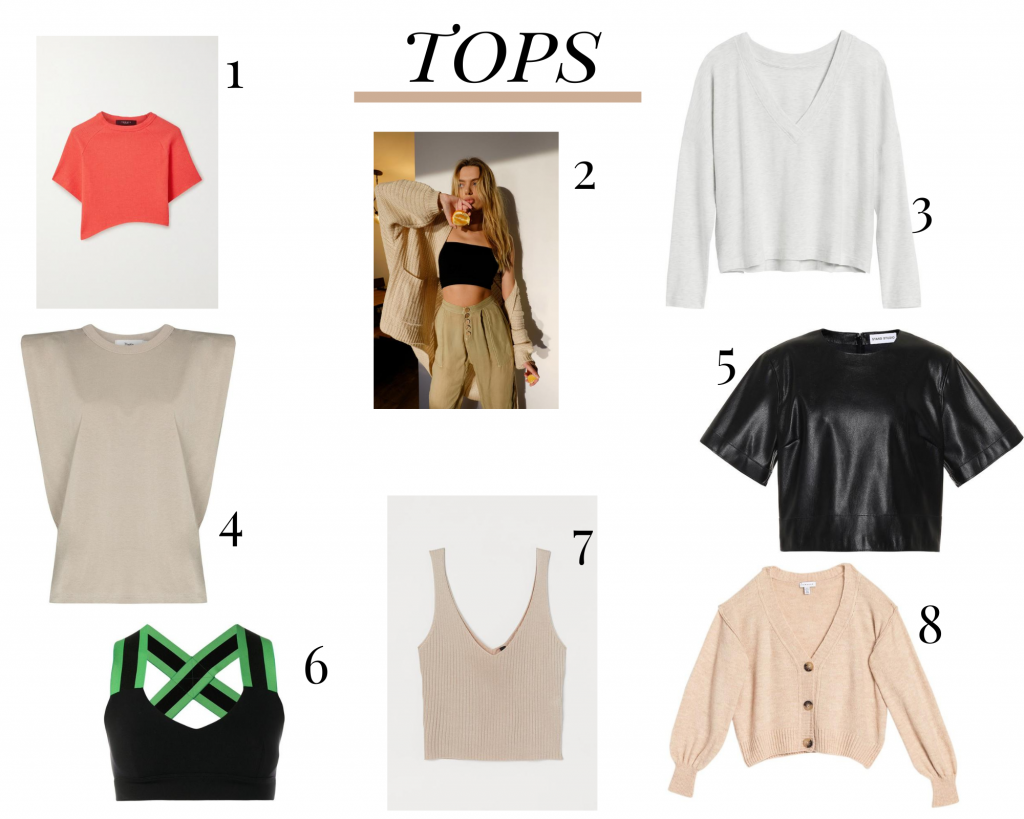 ---
SHOP MY FAVS
---
3. Get monochromatic
How to style joggers 101: Match!
I am falling more and more in love with matching my joggers to my top/hoodie. It adds a little sophistication to the look- and since we are all at home a LOT more, we could use some of that! Matching and wearing a full monochromatic look gives it a little more chic-ness and elegance. I love burnt oranges and darker tones for fall. Also, zip up hoodies and pullovers are great for those days spent indoors.

STYLE TIP: add a fun colored shoe or bag to add more bang to your look!
---
SHOP MY FAVS
---
4. Accessorize
Styling joggers isn't just about wearing a sweater and shoes… Your joggers may need a little something extra, so opt for an accessory. Pair your joggers or sweatpants with a beaded bag for a little summer vibe or a cute hat like a fedora or bucket hat. And of course, safety first- so wear a fun mask! I love all my cotton double-layered masks that I recently purchased from Etsy HERE. They were less than $10 each and super worth it!!
STYLE TIP:To make the outfit pop, even more, pair a chunky necklace or fun ear cuff for a little edge!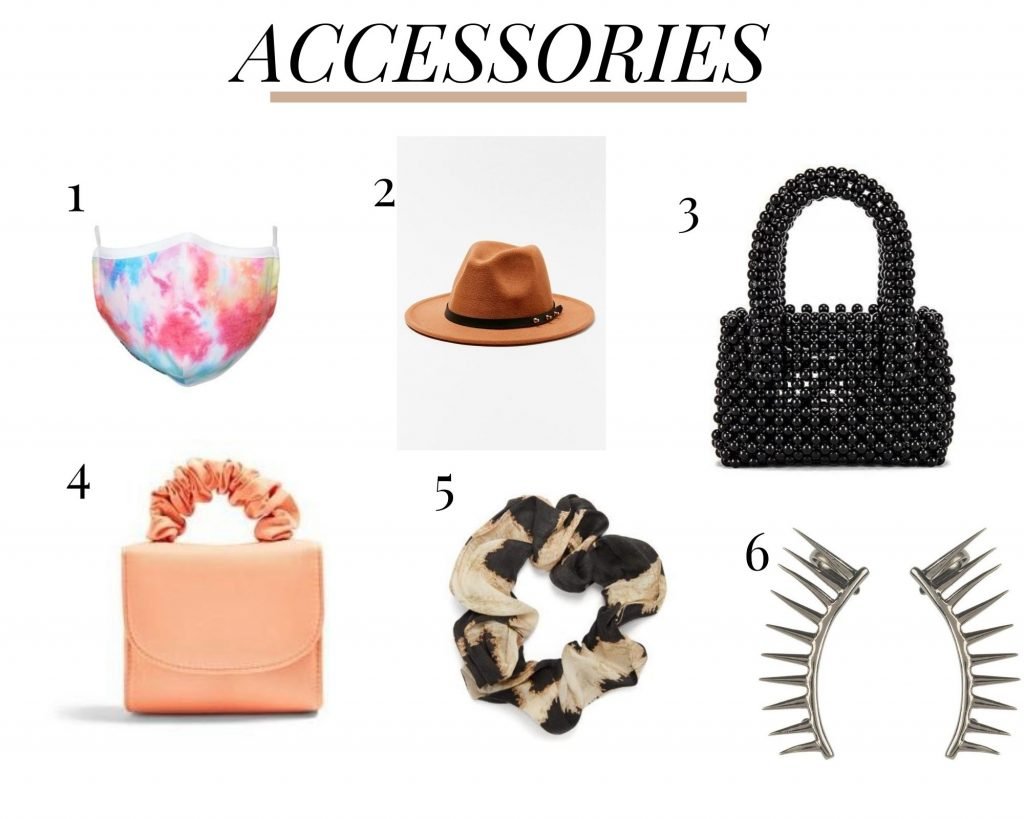 ---
SHOP MY FAVS
---
5. Pattern it up
Not all joggers are created equal! Why settle for a plain color or solid jogger when you can add some print? There are a ton of options when it comes to printed joggers, but I always go back to graphics, letters, and animal print. Styling printed joggers is as easy as adding a plain top and a solid shoe.
Camo is extremely popular in joggers/sweats but I have yet to wear it or add it to my closet. But tie dye has made a serious comeback, which I am down to wear!
STYLE TIP: Go for a cheetah/leopard printed jogger or sweat pant to make it a little more edgy and fun.
---
SHOP MY FAVS
---
6. Layer up
It's nearly fall, and that means layers layers layers! Adding some carefully chosen layers can help your jogger-centric outfit seem more intentional overall. For example, pair a button-down shirt under a sweater or add a scarf and cardigan to your look.

Style tips for layering:
* Add a long coat- this evens out the overall silhouette.
* Pair a button-down shirt under a sweater
* Tie a cardigan/hoodie around your waist for a sportier vibe
* Add a long belt/blazer for a more fashionable feel
* Tuck joggers into boots and add socks for more layers
---
INSPIRATION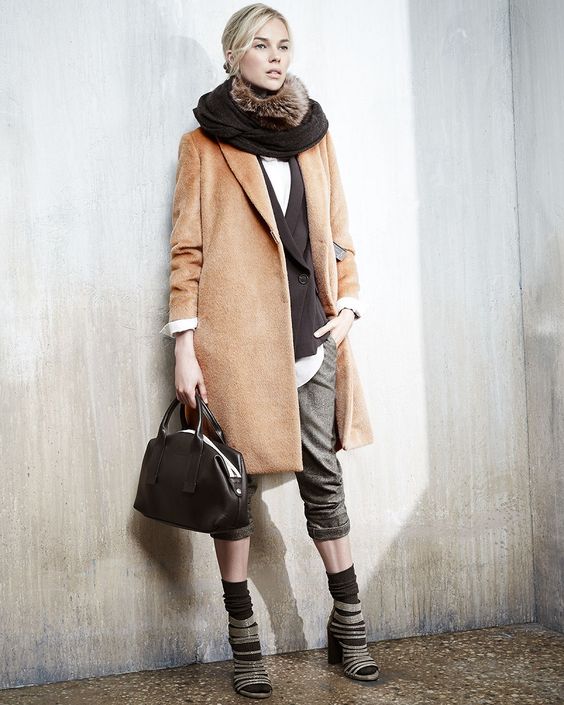 SHOP MY FAVS
---
7. Play with fabrics
Not all joggers have to be cotton or polyester – there are TONS of options for styling joggers with different fabrics. Nylon, Sequins, Mesh, Cotton, Silk – all have different looks.
If you want take it the next level: opt for a pair of sweatpants that are made of a fabric that looks more luxurious than cotton. Velvet is a cozy choice for colder months and faux silk is a fun choice year-round.
So how do you pick the right fabric?

STYLE TIP:
Nylon joggers: pair with a belt to add some shape to a baggy style
Cotton: a simple t-shirt will help with styling easier
Silk: keep your top simple like a sweater or button down
Sequin: even out the bold fabric with a cotton top and blazer
Velvet: pair with a matching hoodie to give it a sportier vibe
---
SHOP MY FAVS
---
8. Add a fanny pack
Before you turn away from this trend- hear me out. A bum bag/ belt bag is a super fashionable way to style joggers and add a little sporty-ness to any outfit. Plus, they're super convenient! Bum bags aren't going anywhere for 2020- so embrace the trend. If you are feeling a little more bold- add a long belt instead!
STYLE TIP: Pair a black bum bag to make any jogger look more chic.

INSPIRATION
---
SHOP MY FAVS
---
Styling joggers doesn't have to be a mystery…or some wizardry!
So get those joggers on and style it girl 🙂

I hope that those 8 tips on how to style joggers so you look fashionable were helpful!! It's all about layering, adding fun accessories and finding balance in how to wear them.

You shouldn't have to worry about what to wear with joggers, so remember to:

* Pair with a fun accessory
* Add layers and a sweater
* Compliment with a bold shoe or boot
* Even out the silhouette with a belt or hat
* Play with fabric choices like silk and velvet
* Add a belt bag for a little more edge and sporty vibe

What is your favorite way to style joggers? I would love to hear your comments! Also, don't forget to follow me on Instagram for more of my style tips and of course, grab your free E-book on posing HERE.



Happy shopping!