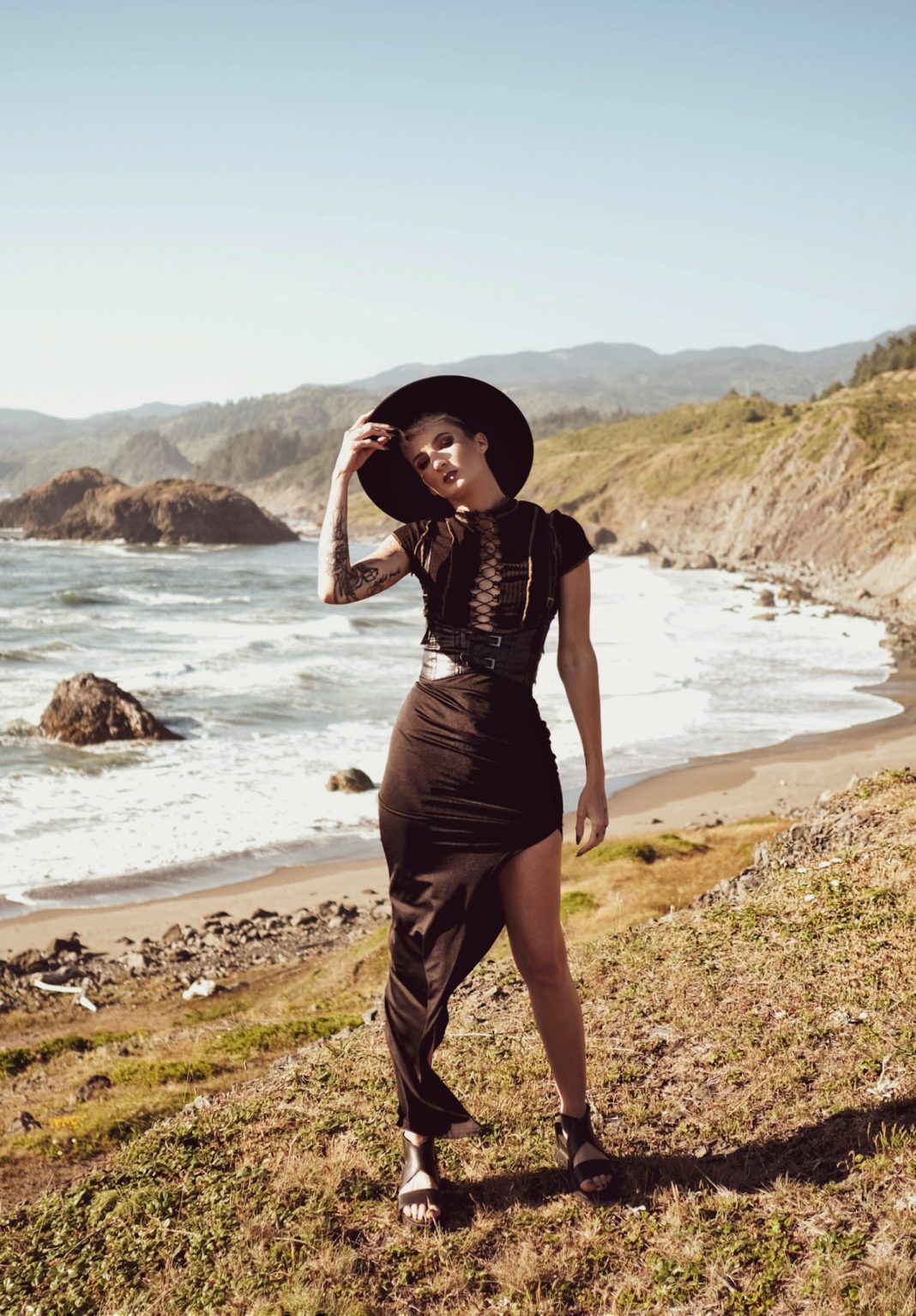 I love the new year for my closet- fresh items, fresh new outlook- It gets me excited for a new start in my clothing choices!

I have rotated a LOT of trends in my time. In middle school, it was boho/emo. In high school it was preppy/trench coats and skirts over pants. (don't remind me). Then out of college, I evolved to a witchy vibe, mixed with goth and Aztec prints (2009!). Now, in my 30's – I love the feel of a western edge, mixed with goth and rock n' roll. Think David Bowie mixed with the 80s, meets Stevie nicks. That is now my vibe.

Don't be fooled- I work from home 5 days a week and my clothes collect dust and scream to be worn, but the truth is I am in sweatpants and leggings 24 hours a day unless I am going to meet a friend or grocery shopping. (Thanks Covid for ruining all plans). But that doesn't stop me from keeping certain items in rotation through the years in my closet. There are pieces that I just cannot get rid of because they are the staples that make my wardrobe easier, that make me excited to get dressed up. Everyone needs a LBD, a leather jacket, etc. Those are the types of pieces I am referring to. So without further ado, let's take a look at what staple pieces you need for a fresh new wardrobe. Because 2022 is here already!

---
1. Go-to Denim Jeans
Let's be honest, there is no piece more vital and necessary than a good pair of jeans right? Ya you can wear leggings and sweats, but a nice fitting pair of pants just feels right. Especially when it is the right fit and you just feel confident in them. They say skinny is out well, I say NEVER EVER! Fashion trends are ever-evolving and just because someone says something is out of style doesn't make it so.
Good fits/styles to keep in your closet that won't die out:
Skinny Fit
Wide Leg/High Waisted
Mom Jeans/Boyfriend Fit
Flare/Bootcut
Shop all the best below!

---
2. Leather Jacket
My favorite piece for any time of the year: a Leather Jacket. I have tapered off of these for a few years, wearing mostly long coats and fur pieces, but recently I have invested in both vegan and leather pieces. I have a few brands that I love: BlankNyc, Levi's, Madewell. But it's how you wear it that counts, not the brand. But I highly recommend investing in a quality leather or vegan jacket. It will make any outfit edgier and immediately give you that badass feeling for your outfit.


My Favorites
---
3. Printed Dress
Everyone needs a fun dress to wear for any season. Floral, geometric, or houndstooth- these prints just won't be going anywhere anytime soon. Sure you can wear a cut-out piece, but that's a bold choice when it's 30 degrees outside! You do you girl. Whether its a maxi, mini or mid- a printed dress can liven up any event, any social gathering for any season.

My Favorites
---
4. Elevated Basics
Basics are the key to any outfit that you want to keep updated. A good tee, fluffy sweaters that aren't too thick or reliable biking shorts, or leggings that will stand the test of time. I personally LOVE H&M, Mango, and Asos basics: affordable and last a long time. They're great for those days that I just want to throw on a pair of jeans and a light shirt and get out the door. But basic doesn't have to be boring. Here are my favorite elevated basic pieces!
My Favorite Basics
---
5. Year Round Boots
Ah yes, my favorite piece of an outfit: the shoes. And boots are my go-to. Even if it's 80 degrees outside, I gotta have my boots. They make you feel powerful and confident, even when it's raining outside. A good heel, a fun detail… it can make a bland outfit go from eh to YES immediately.
My Favorite Boots
---
6. Structured/Fun Blazers
Need any ideas for layering? Blazers! Need to elevate a look that is just needing something extra? Blazer! Year-round, any season- a blazer has stood the test of time and continues to be a must for any fashion lover. Work, home, events, weddings, parties- they go anywhere and everywhere. Opt for a patterned blazer or a chic classic oversized solid for a more chic look.
Blazers I Love
---
I hope you feel inspired with all of these pieces for a fresh wardrobe. They are the tried and true staples that I keep in my closet year-round. Always reliable and key pieces that never get old!