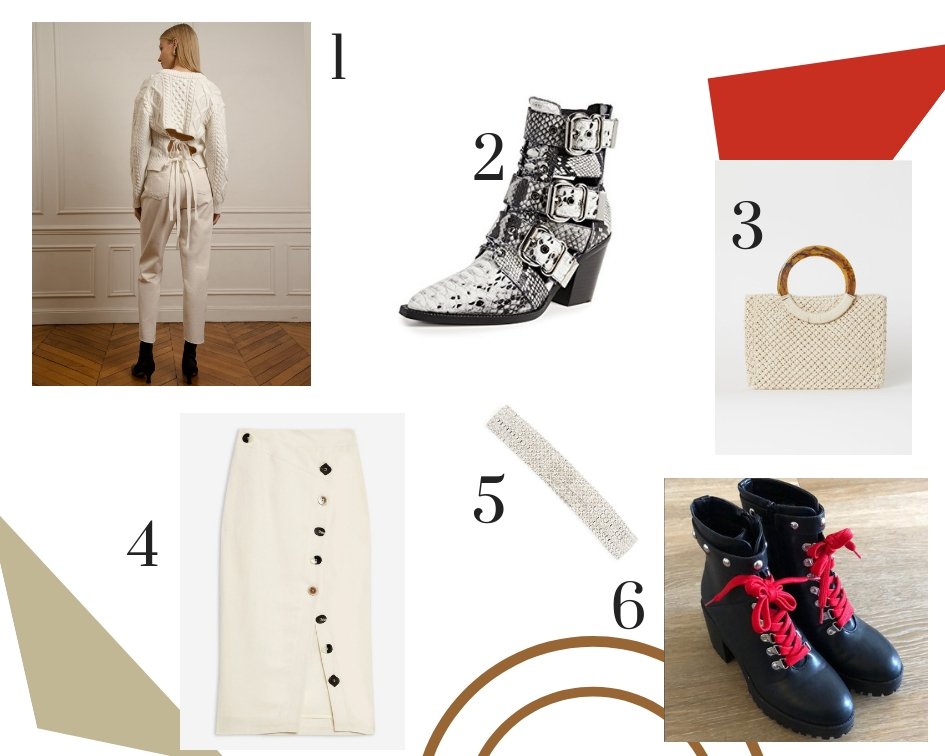 So this month has completely washed away hasn't it?! Thanks, February! But seriously, it has flown by and it is now springtime! My closet is transitioned and I made a sweet guide for you all to make that transition a little easier. And now that the month is over, I found some awesome things that I think you guys will also enjoy. A mix of some products I have bought recently and loved, and some fashion, beauty and lifestyle items I found online that I am obsessed with! Enjoy 🙂



FASHION
---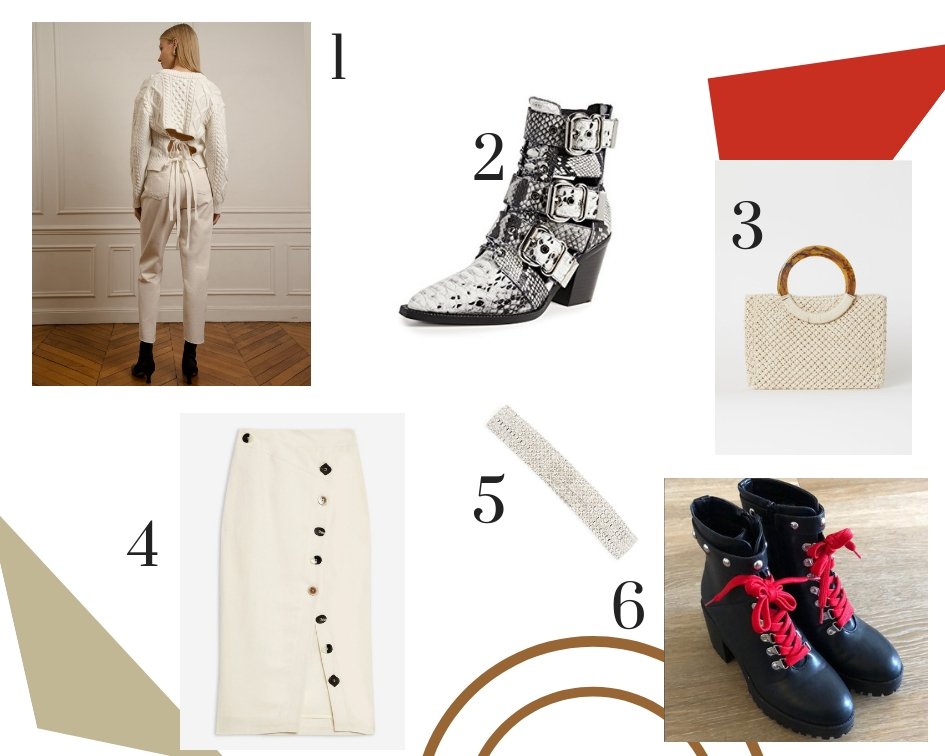 Items:
1: Pixie Market Back Tie Sweater
2: Jeffrey Campbell Boots
3: H&M Macrame Handbag
4: Topshop Mismatched Button Skirt
5: Tasha Crystal Barrette
6: Forever 21 Lace Up Combat Boots –Theyre on sale!!



1: Pixie Market back tie crop sweater is literally my dream item. I haven't bought this yet, but it has been on my wish list for a while now. It is simply gorgeous and so sophisticated. Who would have thought that a tied sweater could be so cute?!
2: Jeffrey Campbell Snakeskin boots. My. Dream. Boot. I never thought I would love snakeskin print until I saw it in a boot. Beyond dreamy and bad ass. I would feel super powerful strutting around with these babies.
3: This macrame bag from H&M is a beauty. Simple, classic and the tortoiseshell handles are everything.
4: I saw this skirt on the Topshop site and knew I needed it. Mismatched buttons? Yes, please! Cream colored skirt? Yes!!
5: Following the trend that I love, hair barrettes! This is from Nordstrom and is classy and adds a little bling to a meh hair day.
6: I bought these combat boots from Forever 21 the moment I saw them. The red laces are bold and fun and the combat style is cute as hell!


BEAUTY
---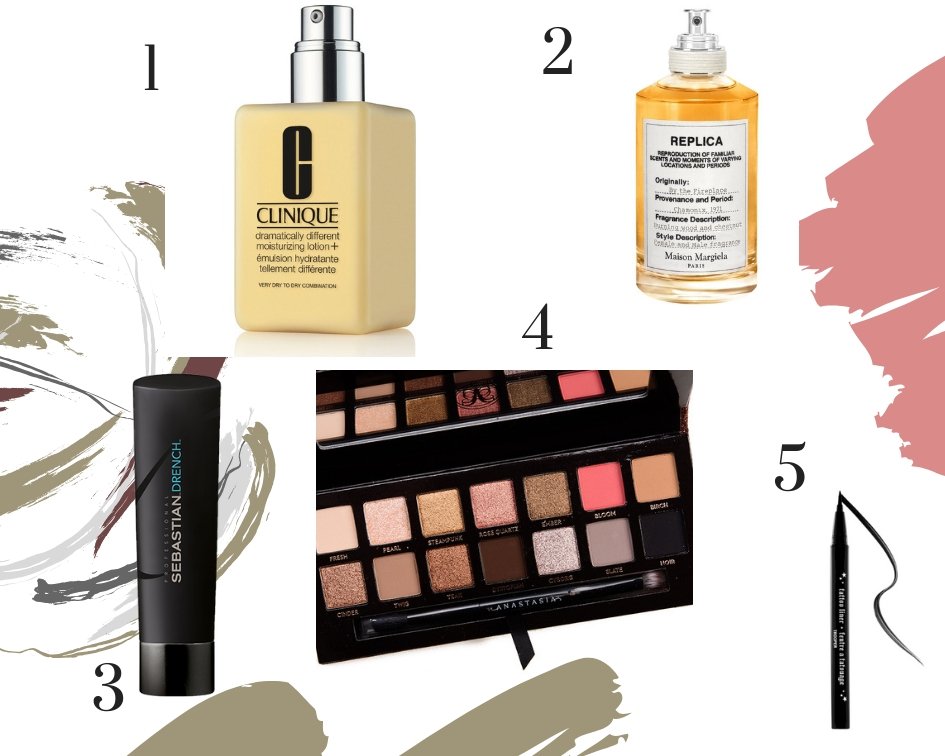 Items:
1: Clinique Dramatically Different Moisturizing lotion +
2: Maison Margiela Replica Perfume in By The Fireplace
3: Sebastian Drench Shampoo
4: Anastasia Beverly Hills Sultry Palette
5: Kat Von D Tattoo Liner

This month has been the best for my beauty finds.
1: I have always been obsessed with Clinique products, so I knew that I would fall in love with this moisturizer. It drenches my skin overnight without leaving it greasy and oily, and feels like a spa when I apply it after showers. Highly recommend!
2: I am a sucker for perfume- but I am also very particular about them. They need to be woodsy, dramatic and dark smelling. Not floral and light, but earthy and musty. And this perfume is absolutely stunning!! It smells like the best part of a campfire but in an elegant way.
3: My hair has a tendency to get very dry after about a month because I bleach it every 6 weeks, so this shampoo by Sebastian keeps it moisturized without sucking all the tones out of my hair. Must have. Also, it smells EXACTLY like jolly ranchers!!
4: Three words: Anastasia Beverly Hills. Need I say more? I use about 4 of her products on my face daily and they are my staples. And this palette full of shimmery and matte eyeshadows is gorgeous. Super pigmented and pretty, and now another staple in my makeup bag.
5: Last but not least, the best eyeliner I have ever used. It goes on smoothly and simply. Kat Von D Tattoo Liner, you are a must must must.
LIFESTYLE
---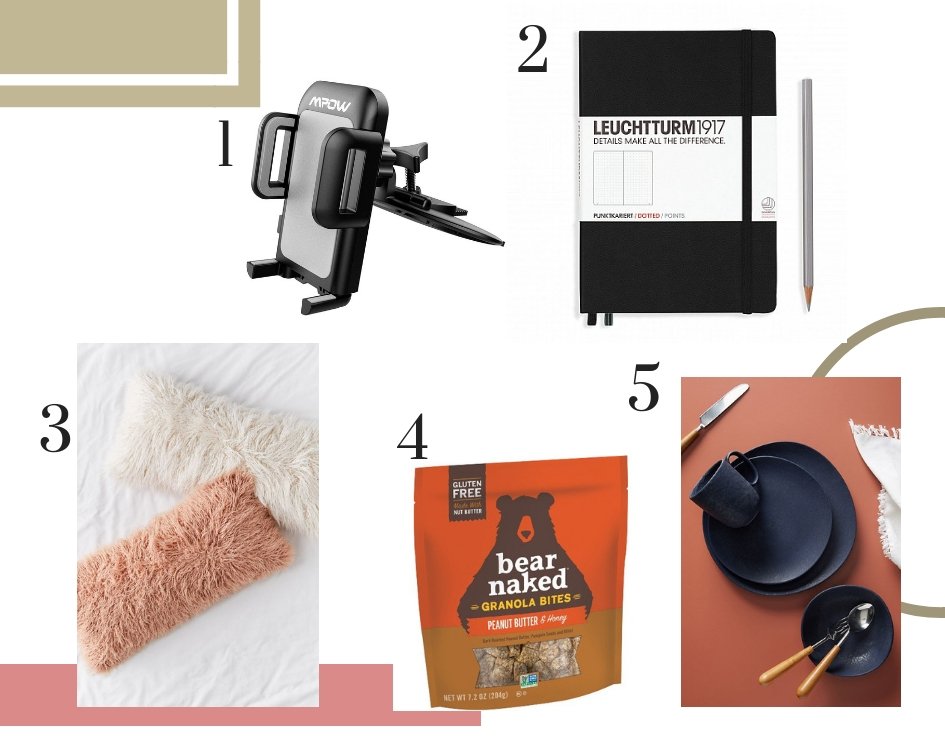 1: Mpow 051 Car Phone Mount is a GAME.CHANGER. I use it in my car and it is simply fantastic for my phone. And, its less than $15.00 and has a seriously great rating on Amazon!
2: Addicted to this snack because its so good. Bear Naked granola bites in the peanut butter & honey flavor is super nutritious and curbs my sugar cravings.
3: Body Pillows are super fun to have around the house. Cozy, soft.. and these ones from Urban Outfitters are cuteeeeee!!!
4: I started bullet journaling earlier this year, and I love it. It has become my go-to way of writing down all my to-dos, notes, goals etc. It allows me to be creative and keep everything in one notebook. And the Leuchtturm 1917 is beautiful.
5: This dishware is GORGEOUS. Anthropologie always has the best dish sets. I love dark kitchenware, and these are elegant af.

Items:
1: Mpow Car Phone Mount
2: Bear Naked Peanut Butter & Honey Bites
3: Urban Outfitters Fur Body Pillow
4: Leuchtturm Bullet Journal
5: Anthropologie Zoysia Dinner Plate


---