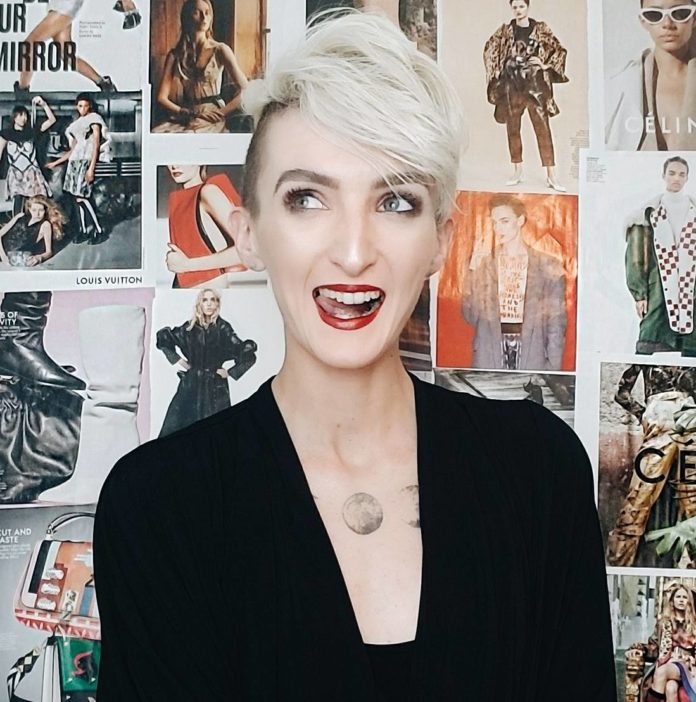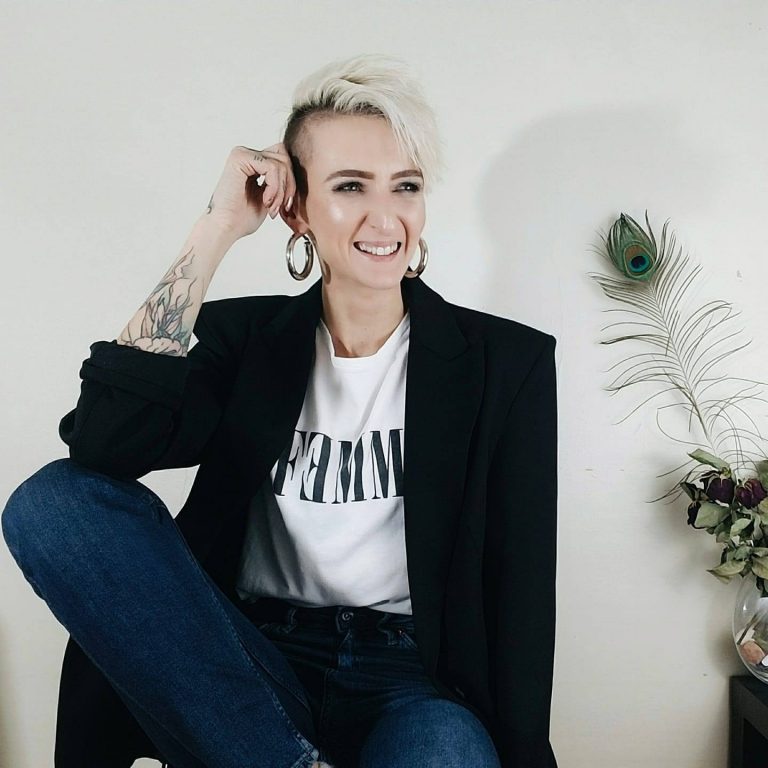 It took me a really long time to figure out my fashion style...
I went through probably 20 different styles and personal identity moments to actually find what I like wearing, and more importantly: what actually makes me feel good!  My fashion phases: 
Middle school was all about bell-bottoms, prairie tops and fringe belts. 
High School: Emo moment, dark hair, trench coats and loud florals.
My 20s: Body-con skirts, tank tops, club outfits and then all black witch inspired stuff. 
Late 20s: I fell in love with over-the-top pieces and neutrals while also falling more in love with black. Less witch- more chic. 
And now that I am 30, I have found that my style is edgy,  minimal and eccentric. Bold pieces mixed with tailored sophistication. Think, Grace Jones, FIGTNY with a bit of  Anna Dello Russo.
It can take a while to know what exactly you like wearing and why you like wearing it. For me, fashion is about confidence and expression. And understanding those two things can be difficult if you 1) don't know where to start and 2) feel overwhelmed or uninspired in life. 
There is so much to look at on a daily basis that it can be really really overwhelming on where to start.  I understand!! It took me a while to finally understand what I loved about clothing and what I was wanting to wear. Finding your fashion style is a LOT. I get it. 
You are probably asking yourself these questions: 
Where do I shop?  Do I need to take a style quiz? How do I start my wardrobe? What do I need in my closet? Do I know what pieces actually bring me joy?  (Thanks Marie Kondo).  Finding your fashion style is a process…. 
So take a deep breath and lets begin on finding your personal and fashion style… and what the 5 style personalities are! 
And more importantly, what kind of clothes you LOVE wearing.
Because that is what fashion is all about right?! 
I found my fashion style with these resources: 
1. Pinterest. I keep all my inspiration from fashion week, street style and mood boards in my boards. Follow my Pinterest with over 2000 + fashion pins here! 
2. Looking at what inspired me on Instagram/Twitter. I am always saving the images that inspire me the most- especially if I love the outfits. 
3. Asking myself what pieces/details/colors/brands I love the most and why. For example, I know that I would never wear polka dots, just because I have never liked them. But in place of that, I would wear hounds tooth or checks. Figuring out what you DO and DON'T like in fashion is important and makes finding your fashion style easier. 
I have picked the top 7 fashion personalities and styles to help you get started with what you are drawn to. Maybe you like edgy leather jackets and some hoodies… which is fine because combining different style personalities is not unusual! Fashion is about embracing what you like and not being afraid to step outside of the box to find what you enjoy. 
Here are all the style types you need to know and my definitive guide to finding your fashion style!! 
"Fashion is about dressing according to what's fashionable. Style is more about being yourself." —Oscar de la Renta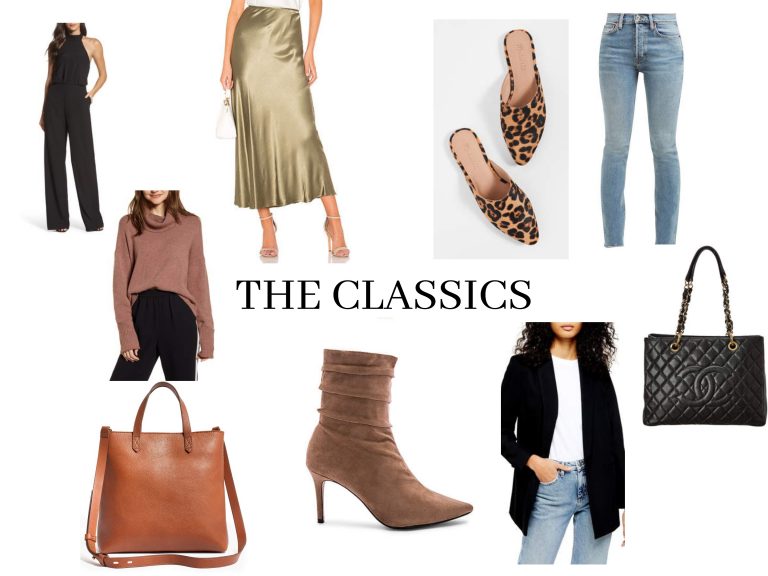 The Classic and Chic style is all about simplicity. You love a clean, simple silhouette. No fuss, no super trendy prints or patterns- just the basics. You are drawn towards denim, classic blazers and tops and pieces that are function over fast fashion. This style is always put-together and tailored! The classics are the ones that always look chic and effortless. No extra frills- just well made clothing that you know will last. This style characteristic is a common one in finding your fashion style – a lot of people relate most to this category! 
Neutral tones, simple pieces, layers, high heels/boots and functional bags  are great additions for you. Controlled elegance!!  
Brands for the classic:
Madewell, Chanel, Banana Republic, Levi's, Gap, Dior. 
Great pieces to invest in:
A little black dress (LBD)—classic, knee-length sleeveless sheath styles, similar to something you could picture Jackie O or Audrey Hepburn wearing. Keep it simple and classic with the neckline- think sweetheart/crew or scoop.  Invest in a style you can either put under a cardigan or blazer, or layer over a white button down. 
My recommendations: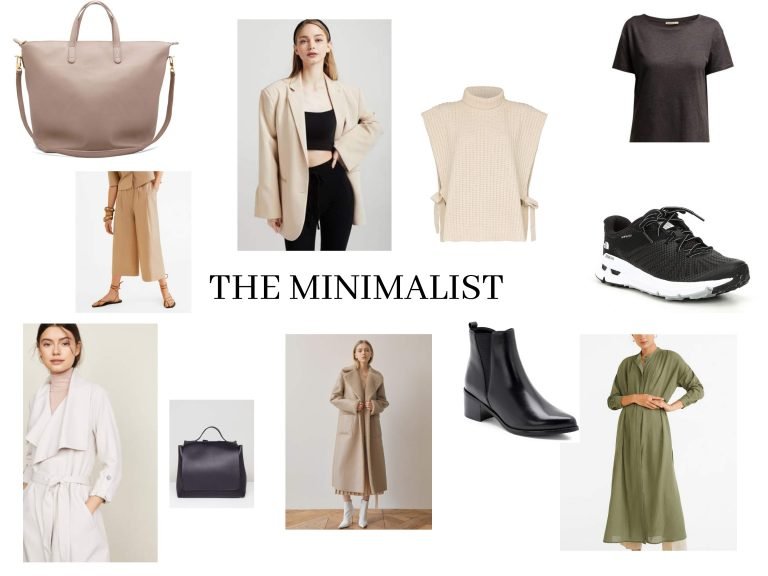 Minimalist fashion style is defined by one major principle: keep it simple! Streamlined shapes, a small selection of colors and even a bare minimum amount of clothing in your closet. Simplicity is the key to pinpointing this style. This is for all the gals who love a good neutral bag, a toned-down pant and top, and a lot of small details. Some special knot somewhere or something as simple as a classic belt. Neutrals, black and white- some grey and a small pop of color. Nothing loud and frilly, just clean lines. If you like quality garments and want them to last a while- this is your time to shine!! The minimalist is drawn to the basic department rather than trendy pieces. 
Brands for the minimalist:
Pixie Market
COS  
Madewell 
Everlane 
Mango

Pieces you should invest in: 
A classic white t-shirt, boyfriend jeans, a long coat with minimal shape or silhouette, tote bags, classic heels or black boots/knee-highs to pair with a great pair of skinny jeans, an over-sized scarf, simple knit sweaters, silver minimal jewelry/rose gold necklaces, pleated skirts and wide-leg pants. 
My recommended items:
 – Shop the items in image below –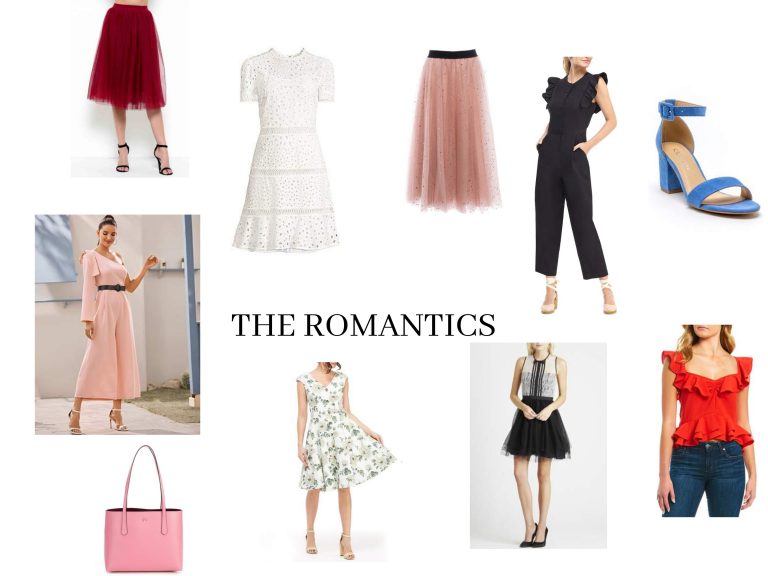 The Romantic fashion style is girly girly girly. This is for the girls who love some lace, tulle and dressing up! You are drawn to feminine features on clothing. A-line dresses, sweetheart necklines, pastels and flared skirts. Ribbons, ruffles, lace, fur, chiffon, and velvet attract you for where your dresses and skirts fall below the knee, sometimes far below the knee. Romantics prefer a cute dress or skirt rather than wearing a suit to work.  Your accessories are delicate and girly with nothing too trendy. 
Brands that are great for romantics:
Kate Spade
Francesca's
Anthropologie
Sir The Label
Pieces to invest in:
Colored jeans, tulle skirts, cocktail dresses, pastel colored accessories, a fun colored pump heel shoe, blouses with bows and feminine details like lace or chiffon, eyelet skirts and tops, flared skirts, silk dresses/floral prints and pea-coats. 
-Shop the items in image below-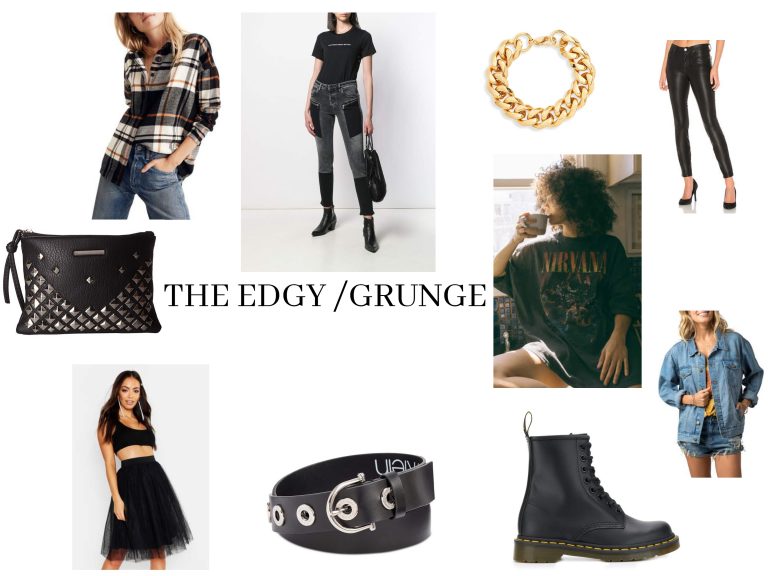 I relate to this girl a LOT. If you love darker colors, ripped jeans, leather jackets and a nice pair of boots, keep reading! This personality is all about that little bit of attitude. Leather pants, rock-band t-shirts, black denim… you are all about that edgy piece of clothing.  You don't necessarily follow all the trends, but instead like to keep it darker and mix trends together. Other details they love: metal elements, grommets, leather and style icons like Gwen Stefani, Miley Cyrus and Zoe Kravitz. You also love tattoos. piercings and probably a good punk/girl band. 
Brands for Edgy/Grunge: 
H&M
Diesel 
Alexander McQueen
Saint Laurent
Topshop
Urban Outfitters
Pieces to invest in: 
Leather jackets, boyfriend ripped jeans, high-waisted denim, rock-band t-shirts, flannels, chunky boots, spiked accessories, black sequin dresses, pointy-toe boots, fishnet tights, leather skirts, blazers, knee-high socks and body-con dresses. 
-Shop the items in image below-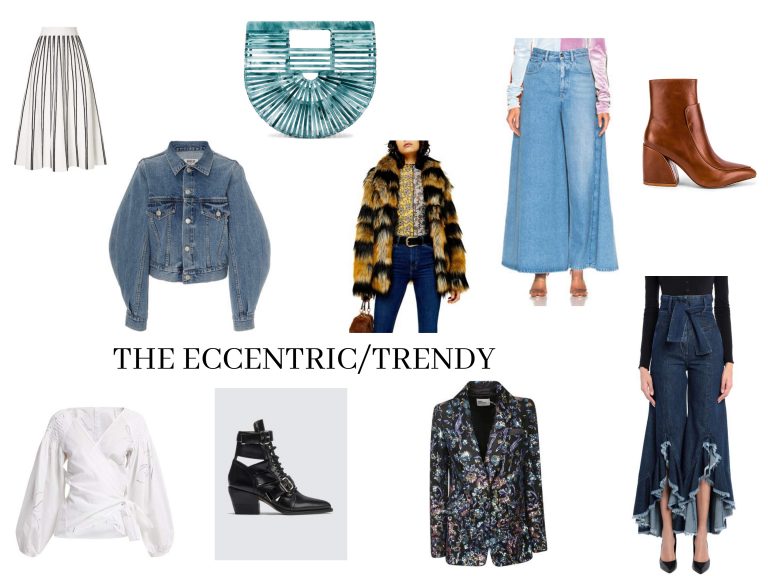 This is my favorite category because it is what my wardrobe is filled with!   I am constantly drawn to pieces that are just outrageous and loud. This personality is not for the fashion faint of heart. Over-sized jackets, fun prints and colors- you are all about the eccentric and over-the-top. The eccentric personality is drawn to interesting silhouettes- something that pushes the boundaries of fashion. Puff sleeves, torn denim and long blazers. The accessories need to be big and bold. Your wardrobe isn't complete without an 80's blazer and a fun bag. You follow the fashion weeks like a hawk and are invested in many street style blogs. (That is definitely me). Celebrities that you follow for style inspiration: Rihanna, Tilda Swinton and Naomi Campbell. The Eccentric and Trendy knows whats in style but also knows how to bend the rules a little bit. In the end, I relate the most to this girl when finding my fashion style!! 
Brands for the Eccentric: 
Maison Margiela
Mango
Zara
Topshop
Net A Porter
Nordstrom
& Other Stories 
Pieces to invest in: 
Puffy sleeve blouses, mom jeans, Fur coats, over-sized belts, tiny sunglasses, hair barrettes, blazers with shoulder pads (wear with a cute blouse underneath to balance), leather pants, animal print, sequin jackets and pants. 
-Shop the items in image below-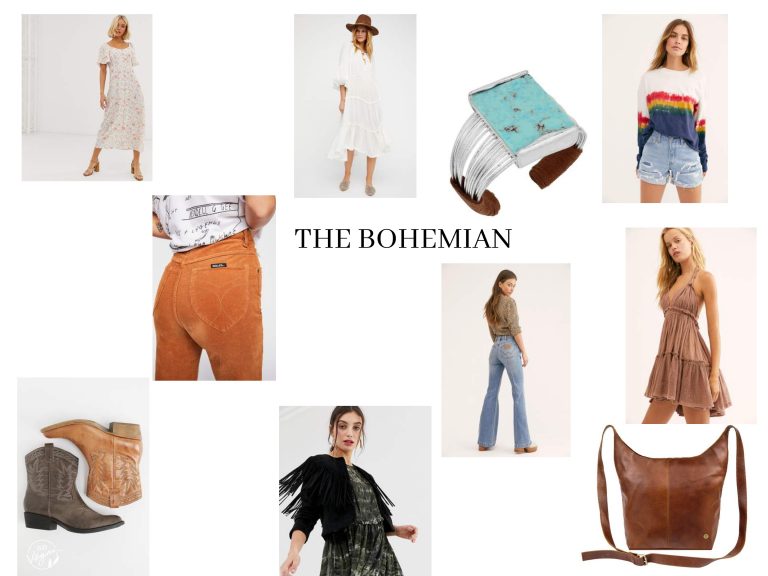 For the light-hearted ladies! You are free-spirited and enjoy the flowy clothes! Long dresses that don't hug the body and have freedom to move are your go-to's. Floral prints that are influenced by hippie/60's celebrities and style icons. The bohemian fashion style is drawn to natural fabrics like wool, crochet and silk. Colors include: green, brown, yellow and orange. Turquoise jewelry and large statement pieces with accessories are great for the bohemian girls! 
Brands for the Bohemian: 
Free People 
Anthropologie
American Eagle
Frye 
Pacsun
For Love & Lemons
Pieces to invest in: 
Bell-bottom jeans, peasant skirts, maxi-dresses, over-sized hats and jewelry, natural stone necklaces, leather sandals, chic headwraps and head-scarves, over-sized sunglasses, corduroy jeans and fringe bags. Because the bohemian fashion style isn't interesting in form-fitting pieces, keep it simple with fun heels and hair accessories. 
-Shop the items from the image below-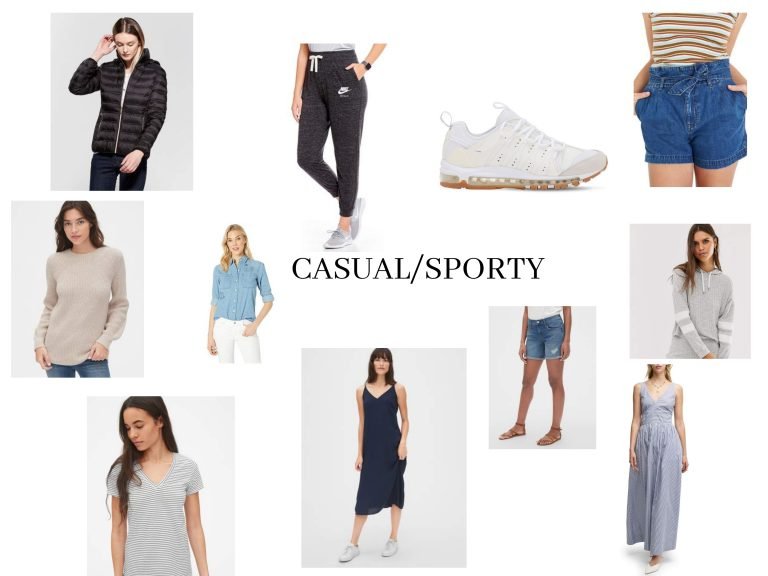 Casual and sporty:  comfort over trends and keeping quality fabrics in your wardrobe. Function over fashion is what you live by. Chic joggers, sneakers, sportswear and athleisure are the staples for the casual ladies. This personality likes natural fabrics: linen, wool, cotton and breathability. Nothing too bright- more focused is on neutrals and subtle tones. Style influences are Jennifer Aniston and Kate Hudson. Comfort but chic!! 
Brands for Casual and Sporty: 
J.Crew
Nike
Gap
Ralph Lauren
Loft
Pieces to invest in: 
Joggers, loose-fit tank tops, striped t-shirts, denim jackets, basic sweatpants (pair with sneakers or heels to dress them up), boyfriend jeans, khaki shorts, stretchy leggings, basic hoodies, minimal jewelry and sneakers. Try pairing basics with a cute pair of joggers so you can add some jewelry to balance it all out. 
-Shop items from the image below-
Finding your fashion style isn't always easy- but once you get it, you notice a huge shift in your wardrobe and your shopping habits. Once I realized I didn't enjoy certain things in my closet, I was able to just let them go without feeling guilty. Someone else can enjoy my old pieces! Donating them to Buffalo Exchange or a resale store is a great option when you need to get rid of clothing. Remember to think about why you enjoy certain pieces over others. Is it the fabric? The silhouette? I know that I am not a sweat pant person, nor a flats person… because they are just too casual for me. I like dressing up!! Knowing why and what you like about clothing helps you even more in figuring out your fashion style! Do you feel like you have an idea of what your style is? I would love to hear your experiences with figuring out your style type!