The end of 2017 is about a month away, and I cannot believe how fast it has gone by. I remember dressing up in my black fur jacket on NYE, excited for the new year. This year has been more magical, adventurous and successful than I ever could have imagined, especially in my personal and work life. I found a lot out about myself and what things I am truly passionate about, and what I really do not need in my life. I tried new trends, new wardrobe colors (black is still my favorite), and pushed myself to try new things. I regret none of this year, but there are a couple things I am going to get rid of for 2018. Call them resolutions, call them goals- I am keeping them in 2017 so that my new year starts off successfully and better than the previous. Keep reading to see my 5 things I am getting rid of in 2018. And Happy Holidays to you all!

#1: Buying unnecessary things
I am sure you are guilty of this as well. Buying just one more Starbucks after your morning venti latte. Getting that coat that you think you may wear when you have 10 other jackets in your closet. I have a terrible habit of buying things that I later wish I hadn't because I didn't need it or could have saved that money on something else. It makes me feel anxious knowing that my money isn't going towards things that improve my life or make me feel happier. Yes, eggnog lattes are literally my favorite drink ever, but that extra 5 dollars a day could be spent elsewhere- even if I hate to admit it. Time to stop wasting my money on things I do not need, and really prioritizing what else it could go towards.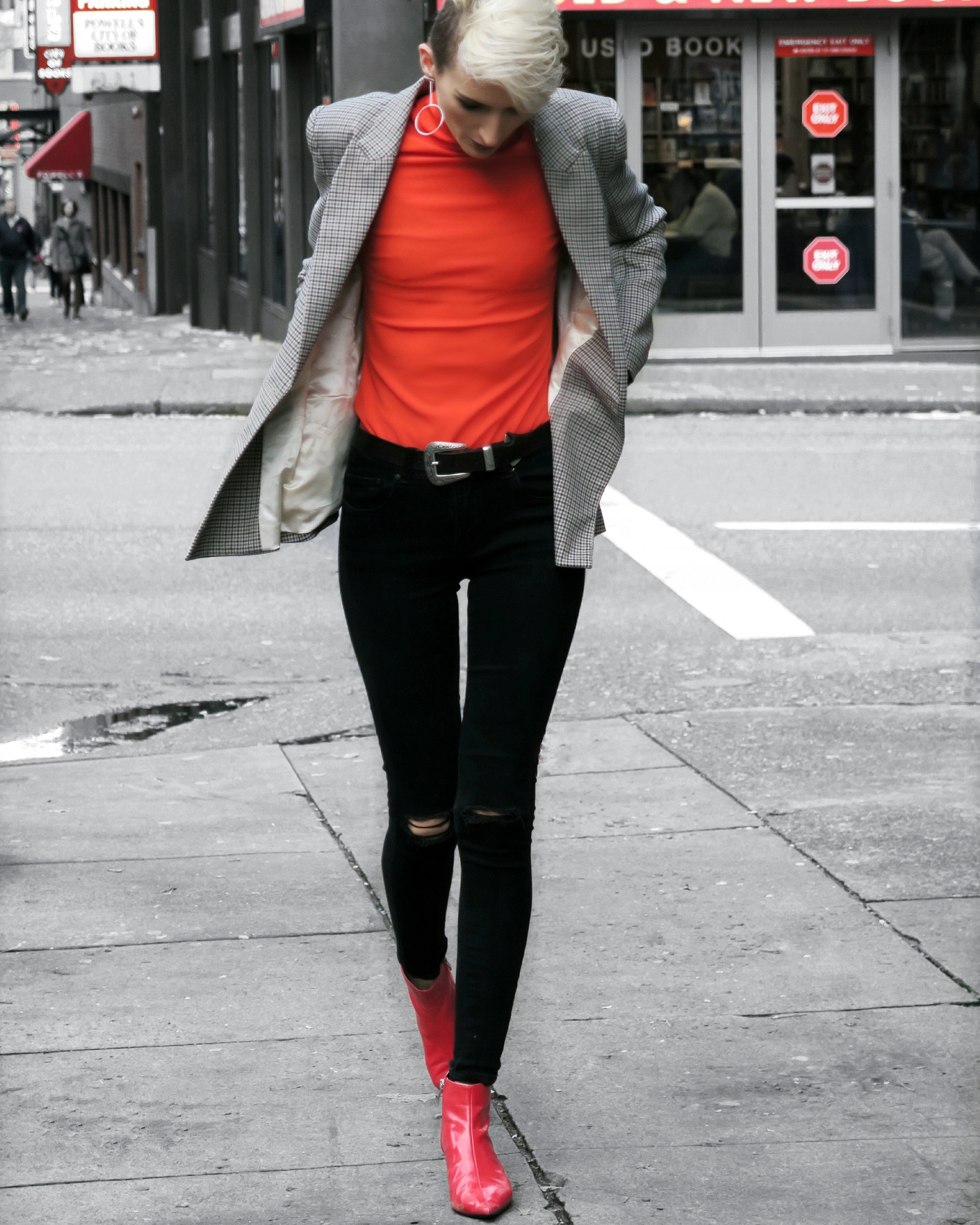 Shop this outfit here: pepperandplatinum.com/shop
#2: Quantity over quality in fashion

I work in the fashion industry and am aware of cheap clothing in trendy stores and how budget friendly they are. I buy them because they are cute and inexpensive, but find myself not loving them after about 6 months. Investing in staple pieces instead of buying in large quantities is financially smarter and more eco-friendly. I get it- it's hard to resist a 20 dollar pair of studded boots that go with every outfit. But, saving money and investing in better quality items will be better on your wallet in the long run. Shop with intention instead!
3. Wearing only black boots
Seriously, black boots are my vice. My addiction. But I recently purchased a red pair of Zara kitten heel boots and fell in love. I only stick to black with my shoes, mostly because I love black, and its easier to plan an outfit with. I want to break this habit and branch out more with color and patterned shoes. No more being simple and just wearing black! Shop my favorites below.
#4: Never having basics!
Not having basics in my wardrobe I tend to buy pieces because of their functionality and how I can layer them. But I am really bad at buying basic staples that I can rotate in my closet. White t-shirts, blue jeans, black t-shirts and jersey dresses. 2018 will have more of those!!
#5: Not taking fashion risks

My closet has some gorgeous things: black fur coats, leather jackets, fitted blazers. There are so many items that I wish I had, that I never took a chance on. I was too scared to wear it in public, or at work (I work full-time so my wardrobe has to be a little practical). I wish that I had taken the risk of buying it because I know that it would have made me happy. And that's what fashion is about right? I will be taking more risks with my clothing next year. Buy the crazy shoes! Buy the interesting jacket with embroidery!
I think these goals are completely achievable and realistic, especially since I know where to be looking for all these items. With a new year comes new challenges, a fresh start and a fresh outlook. New Years is my favorite holiday for all of those reasons: to begin new! I would love to hear what fashion goals you have for 2018 and if you are ready for the new year. Happy Holidays!